Cum 2016 Yellow River Friendship Awards Ceremony
On September 29th, the Henan Provincial Government held a reception at the Huanghe Guest House to celebrate the 67th anniversary of the founding of the People's Republic of China. The deputy secretary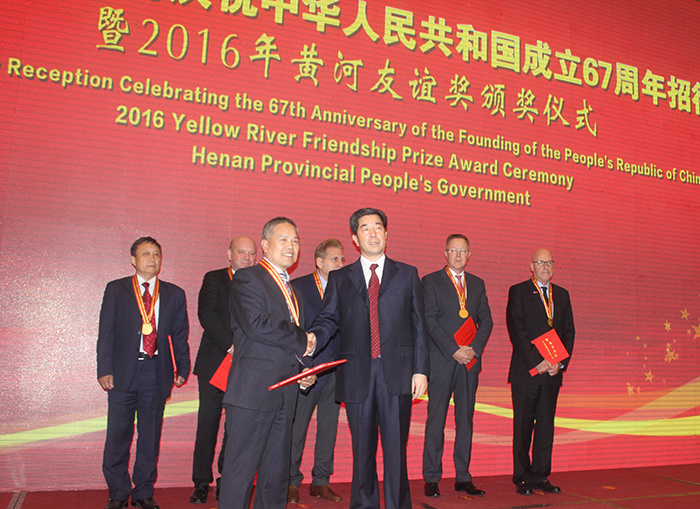 On September 29th, the Henan Provincial Government held a reception at the Huanghe Guest House to celebrate the 67th anniversary of the founding of the People's Republic of China. The deputy secretary of the provincial party committee and governor Chen Runer attended the reception and presented the winners of the 2016 "Yellow River Friendship Award".
Shao Guosheng (British nationality), the director of the National Low-carbon Environmental Materials Intelligent Design International Cooperation Base recommended by Zhengzhou City and the chairman of Zhengzhou Puke Road Plasma Technology Co., Ltd., was selected. The team led by Shao Guosheng was named the first batch of entrepreneurial leading team of Zhengzhou "1125" Jucai Project. His international joint center for low-carbon and environmentally-friendly materials intelligent design was recognized as the national international cooperation base and the only new material international in Henan Province. Cooperation base. Shao Guosheng has long been committed to the exchanges and cooperation between academics, technology and talents in Henan and universities and research institutes in the United States and the United States,and has made significant contributions to the economic and social development of Henan.
The Henan Yellow River Friendship Award is the highest honor awarded by the Henan Provincial People's Government for international friends, foreign experts, Chinese overseas Chinese, and Hong Kong and Macao celebrities who have made outstanding contributions to the opening up, economic construction and social progress of Henan Province. On the eve of the National Day, the Henan Provincial People's Government held the award ceremony for the Henan Yellow River Friendship Award and invited the winners to participate in the National Day reception of the Henan Provincial People's Government.